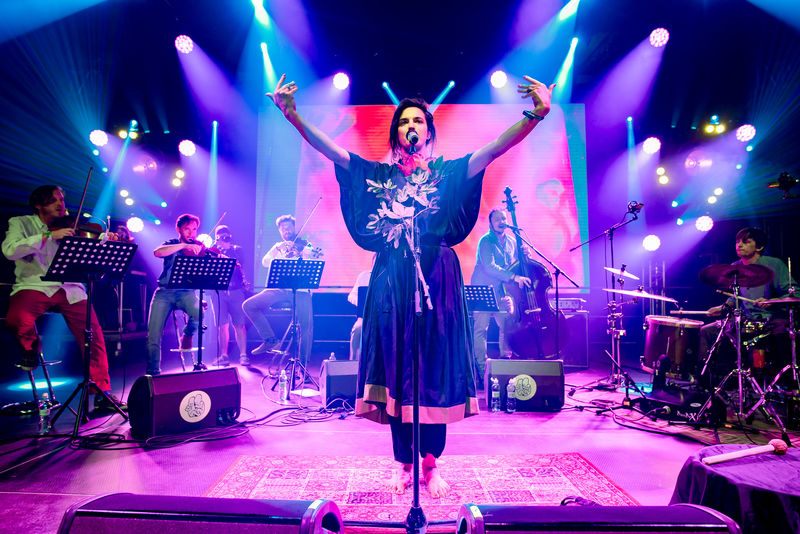 Mixture of uncompromising punk, world music and quality pop, legends and up-and-coming artists – these are the nine names of the Czechoslovak scene at Pohoda 2023
Slovak star Jana Kirschner, the popular Tata Bojs from the Czech Republic and the legendary Slovak band Karpatské chrbáty have been added to the programme of the biggest Slovak festival. The nominees for the Radio_Head Awards in the Discovery of the Year category – the duo Meowlau X Val and the band Krstní otcovia – will also perform. Visitors can also look forward to the Slovak-Czech-Norwegian project Angrusori, underground rapper RNZ, pop star Zea and punk band RozpoR.
10. February 2023
Jana Kirschner, one of the most successful and popular Slovak singers, is returning to Pohoda after five years. Neither Jana herself nor her rich creative work need to be introduced to Pohoda visitors. Her performances are a guarantee of quality, and the energy she transfers to the audience captivates the crowd every time. Recently, she has sung several film scores and collaborated as a guest on the songs of several Slovak and Czech artists. Just yesterday, the new track Sprint by Czech rapper Idea was released, on which Jana Kirschner makes a guest appearance. This is the fourth collaboration of the pair (previously they recorded the songs Až spadne další hvězda, Hesla and Synergia). "What other Slovak artist than Jana Kirschner should complete Pohoda's strong representation of female artists from all around world? When we confirmed Suzanne Vega, we immediately knew who should perform on the same day. Jana's artistic development is remarkable and we are looking forward to her concert at Pohoda," says festival director Michal Kaščák about the artist.
Another legend will visit us from the Czech Republic – the band Tata Bojs, which is considered the most popular band among our western neighbors. Another proof of their quality are the ten Czech music awards Anděl they have won so far. In 2020, they released their latest album titled "Jedna nula" (One Zero), which contains several interpretations: it is the 10th studio album and at the same time the numbers one and zero symbolize the binary system, i.e. the basic formula of the digital world, which is increasingly part of our lives. However, due to the pandemic and the restrictions of the time, the band could not go on the new album tour. This eventually led to one of the most original concerts in the Czech online world. Tata Bojs recorded a full-fledged rock'n'roll performance without an audience and in the closed environment of Prague club DOX+, which they released as a separate live album and video recording.
Another legendary band, this time from Slovakia, that will perform at Trenčín Airport in July, are Karpatské chrbáty. This alternative rock band from Vrbové was formed in 1982 under the name Harmasan and later renamed to VEGET. However, in 1986, at the request of the local cultural center, they changed their name a second time to Karpatské chrbáty. The band of Braňo Jobus, who is an integral part of Pohoda Festival, has been performing for 41 years and has released 10 albums. 
A four-member punk band from Bratislava, known for its uncompromising anti-fascist stance, will also perform at Pohoda 2023. The band RozpoR was formed in the late 1990s and has released eight studio recordings to date, most recently last year's new song Hrubá sila. RozpoR has given hundreds of concerts not only in Slovakia and neighboring countries, but also in Italy, Great Britain, Belarus and Israel. The group is involved in several charitable activities. During the refugee crisis in 2015, they played a charity concert directly in the refugee camp in Vienna. This was followed by two tours of Roma villages in eastern Slovakia under the title Radikálne ľudské turné (Radically Human Tour). Recently, they also performed at the Velvet Revolution celebrations in Bratislava, organized by Pohoda Festival under the name "Concert for the Attentive". 
After a year, the Slovak drumbass&pop project Meowlau x Val returns to Pohoda. Last year they made a splash in the domestic scene with their debut EP Nevermind. However, at Trenčín Airport, they will present a new EP, which will see the light of day around the same time as the festival. The female duo Meowlau (Laura Jašková) and Val (Valentina Vlková) is accompanied by drummer and master of live drum beats, Martin Miklis. The music of this band is full of powerful atmosphere and in combination with energetic beats and English lyrics, they draw the listeners into the story and make them the most essential part of the performance. Their music and performances can be described in two words: Energy and Sincerity. 
Rapper RNZ will be another young Slovak musical talent at Pohoda 2023. His work alternates between explosiveness and melancholy, embedded in music with a touch of phonk, dark trap and emo rap, built on a wide range of samples from industrial, ambient to guitar melodies. RNZ has released three albums to date, with songs from the second one reaching nearly two million streams on Spotify. His latest work, titled Shatters of Misanthropy, which he released last year, featurers collaborations with other rappers, including Dušan Vlk, who will also perform at Pohoda 2023. His latest single Whats UP, which he recorded with Czech rapper Darewin, was released just this month.
A representative of alternative pop – singer Zea – will also perform at Pohoda. She recently released her debut album Burning Light, produced by Slovak-Canadian producer Milan André. Zea, whose real name is Alžbeta Ferencová, is originally from Slovakia and belongs to the Roma ethnic group, which she not only does not hide, but is proud of:  "The fact that I am Roma irritates some people. But I am proud of my origins. I want to follow in the footsteps of my great-grandmother Elena Lacková and show others that Roma people can be successful, too."  Her great-grandmother was the first Roma woman to graduate from Charles University in Prague, and wrote the first Roma theater play. This is also the reason why Zea addresses social issues such as racism or the position of women in society in her lyrics. 
The young band Krstní otcovia from Bratislava will also play at Trenčín Airport. At first sight a typical indie rock band, they keep surprising in their sets with excursions into deconstructive progressive rock and transitions from rehearsed songs to spontaneous improvisations. The band is currently one of the most interesting things to come out of the Slovak music scene lately. This is also proven by the nomination for the Radio_Head Awards in the category Discovery of the Year. 
The last band announced so far is Angrusori. This is an extraordinary Slovak-Norwegian-Czech music project that creates new melodies, beautifully recomposed and combined by Nils Henrik Asheim and Iva Bittová in close collaboration with other musicians. In May 2021 they released their debut album Live at Tou, combining old traditional Slovak Roma songs with contemporary experimental improvisation. The unusual combination was also noticed abroad - The Guardian called the recording the album of the month, and celebratory reviews also came from other music magazines such as The Wire, Jazzquad or Muzikalia. They were also awarded the Radio_Head Awards in the World Music/Folk category.
These nine Slovak and Czech artists join nearly sixty already announced artists who will perform at Pohoda Festival from July 6 – 8, 2023. Among them are Central Cee, Jamie xx, slowthai, Suzanne Vega, this year's two-time Grammy winners Wet Leg, SOFI TUKKER, Viagra Boys, Perfume Genius, Arooj Aftab, Shygirl, AMELIE LENS, Sampa the Great, Genesis Owusu, Dry Cleaning, shame, Charlotte Adigéry & Bolis Pupul, Liniker, Yard Act, Alina Pash, PVA, Hermeto Pascoal, and many others. The organizers of Pohoda Festival added that they will announce more world-famous names to the audience in the coming days.