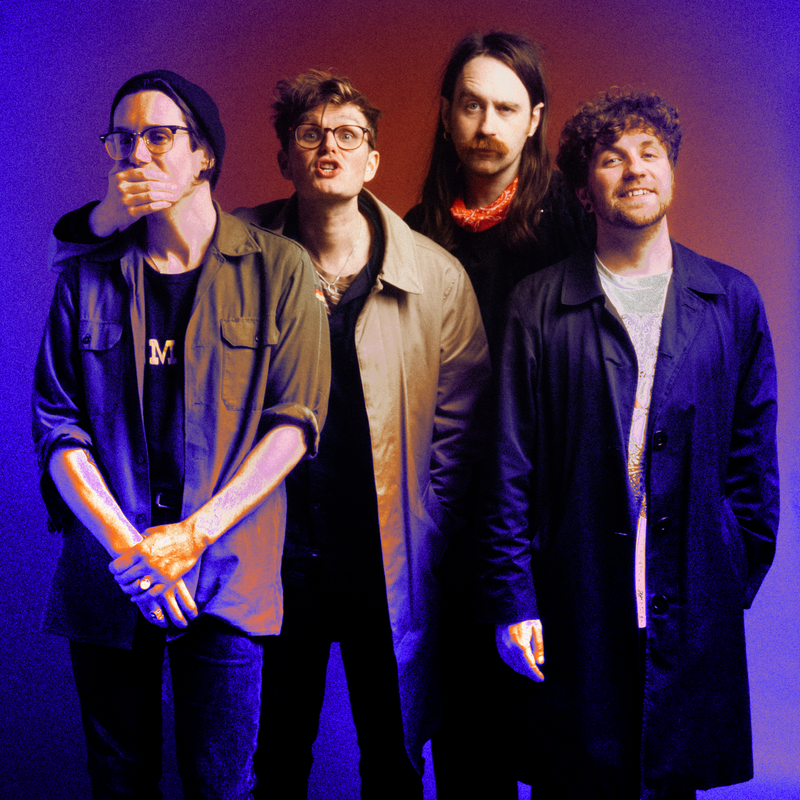 SPOTIFY APPLE MUSIC YOUTUBE INSTAGRAM FACEBOOK
Yard Act was formed in 2019 in Leeds. The duo of Ryan Needham and James Smith soon grew into a four-piece band when a drummer and a guitarist joined them. Critics have categorized their music as post-punk and indie rock, but they often use elements of Italo disco and hip-hop as well. Their powerful lyrics, sometimes sung, sometimes spoken, are devoted to politics and society, capitalism, the pandemic, or Brexit. But the dark humor and cynical narration calm the tensions in society with laughter.
Yard Act are a wonder from the UK. How else can you describe a band that was formed just before the pandemic, managed to play only three concerts, and still became famous?  They released their debut in early 2022, performed at Glastonbury that summer, and closed the year by nominating their debut album The Overload for the prestigious Mercury Prize 2022. Meanwhile, Yard Act were named the most booked new music band at European festivals in a study by the European talent exchange program ESNS Exchange. They are therefore considered "the most promising up-and-coming European band of today." The TOP 10 also includes Alyona Alyona, who performed at Pohoda 2022, as well as Wet Leg and Mezerg, who you will see at Pohoda 2023 along with Yard Act.
One of their fans who was captivated by them is Elton John himself: "From the first moment I heard Yard Act, I fell in love with James' lyrics and the way he's delivered the song." The mutual admiration turned into collaboration when the band and Elton John re-recorded the last song of the debut, with the "Rocket Man" playing the piano.
Michal Kaščák is also looking forward to Yard Act: "One of the top bands of the independent British rock scene. They have performed at many showcase festivals and now they can happily headline. We have been trying to get them to Pohoda for several years, I am glad it worked out for 2023." 
We are glad that in 2023, in addition to Primavera in Barcelona and Madrid, Yard Act will also perform at Trenčín Airport, where they will surely find even more fans who will fall in love with them just like Elton John.