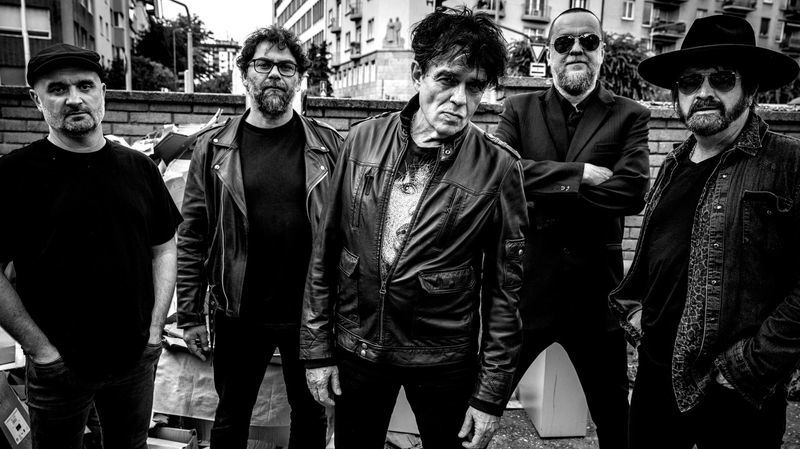 Website Facebook Spotify YouTube Instagram Twitter
Slobodná Európa are releasing their new album Výberofka (The Best of) today—and the band is also in the selection of the best of our festival... :) Slobodná Európa is a punk rock legend. At present, they are clearly in the best concert shape, and more and more we hear them being likened to the Slovak Rolling Stones—of course, with a far better image... :) The members of many years, Whisky and Sveťo Korbel, were joined some time ago by Laco Lučenič who will have a personal tour at Pohoda, as on Thursday he will also play the concert "Nemoderný chalan" dedicated to Meky. The rhythm is taken care of by Tuleň and, on the base, by the former member of Davová Psychóza, Rasťo Gore. In addition to his great playing, also his movements, gestures and funny faces are worth paying attention to, as they contrast perfectly with the minimalist choreography of the "thistle on a swimsuit" of Laco Lučenič. 
After four studio albums, Výberofka is released today as a double vinyl of hits such as "Podvod", "Pes", and "Analýza dokázala hovno". The album was introduced to public two weeks ago in the packed MMC club by Mišo Kaščák, who said: "I appreciate that the album was introduced to public before it was released—the older the band are, the more punk their approach. We used to have a common rehearsal room with Slobodná Európa, we recorded albums one after the other, and at the moment we also have the even numbers of non-drinkers, 2:2. Personally, I'm glad that they took inspiration from our band and instead of denim jackets, they play in black jackets. They look like a commando from Tarantino's films and play for their lives. There is only one life and thanks to Slobodná Európa, we know how to deal with problems. Already this makes them the classics of world music and literature." Currently, the band is on their Kristove Roky tour and they will celebrate the 25 years of Pohoda with us in just six weeks.