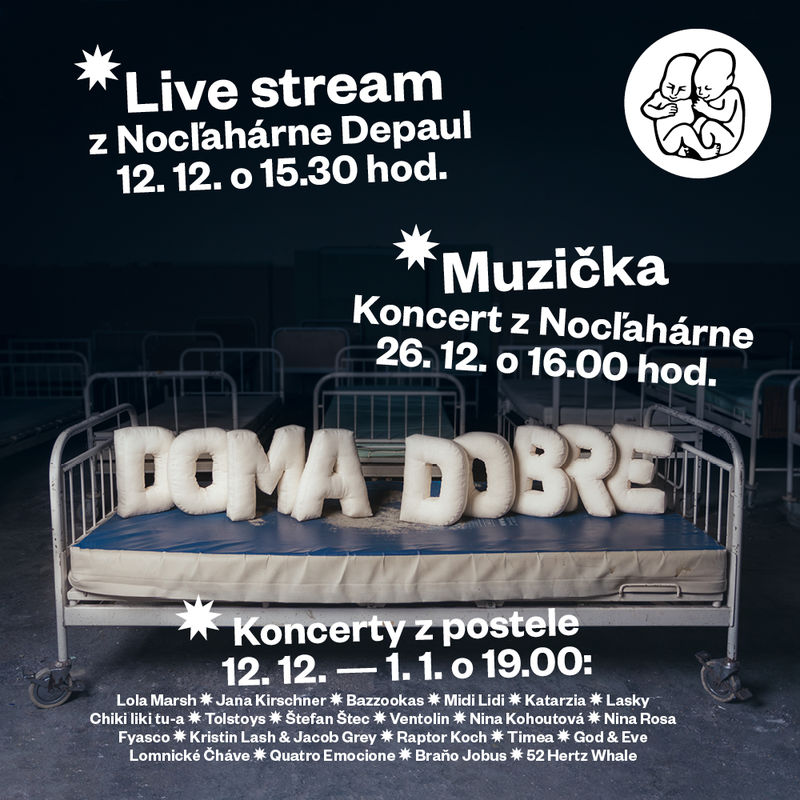 The Doma dobre festival to go online from the dormitory and then from the artists' beds already this Sunday
For the first time ever, Doma dobre will be a multi-day event. Already this Sunday, 12th December, you can watch the livestream from the St. Vincent de Paul dormitory featuring the performance of FVLCRVM. The stream session will also include a debate. The organisers will then share songs by artists recorded from the comfort of their beds on the Facebook pages of Pohoda and Depaul Slovensko at 7 pm each day until the 1th of January. This is to symbolically point out that even an "ordinary bed" is not a matter of course for many people. You will hear songs by Lola Marsh, Jana Kirschner, Bazzookas, Midi Lidi, Katarzia, Chiki liki tu-a, Tolstoys, Štefan Štec, Ventolin, Nina Kohoutova, Lasky, Nina Rosa, Fyasco, Timea, Raptor Koch, Kristin Lash & Jacob Grey, Lomnické Čháve, God & Eve, Quatro Emocione, Braňo Jobus, and 52 Hertz Whale. On Sunday, 26th December, we will return to the dormitory, where we will end the eighth edition of Doma dobre with carols performed by Muzička at 4 pm.
11. December 2021
"I am very pleased that to decide to participate in the concert in the Depaul dormitory and the bedside music adventure were so many great artists in various genres: from jazz, through pop, alternative, folklore to metal music, both emerging artists and established names. The reactions were great and we believe that the bed versions of the songs and the concerts directly from the dormitory will be just as great. It's amazing to see how our music scene cares about the most vulnerable," says Michal Kaščák about this year's Doma dobre.
The festival aims to draw attention to the real problems of homeless people, for whom winter is a critical time. The festival is also a call to support the activities of the largest organisation providing low-threshold services in Slovakia, which has been helping in this area for 16 years. In their latest project, they are specifically dedicated to housing support: "We look for landlords and affordable apartments, which we then match with homeless people. At the moment we already have 3 such apartments and three people who had no home and who now spend their evenings in the warmth of home. In short, as it should be. However, we have the ambition to expand this project and find another seven apartments and landlords who, together with us, would give a person in need the opportunity to start over again," says Zuzana Kuľhová from Depaul Slovakia. The people from Depaul Slovakia had a clear goal before last year's edition, which is even more pressing now with the coming of another winter marked by the pandemic: "We, as an organization, and the homeless have a wish—to survive this winter."
The streets of Bratislava see about 4,000 homeless people every day. The low-threshold dormitory services are used each year by more than 1,200 people. The employees of Depaul Slovakia take care to provide the homeless with a warm place, food, and basic services no matter in what condition they come. Among other things, they get toiletries and, if interested, also social counselling and job search assistance. The Doma dobre festival wants to draw attention to the fact that during the pandemic, homeless people are an extremely vulnerable group. We would be glad if you could join the stream from the dormitory and contribute to help the homeless on adoptujsipostel.sk.
Numbers behind which are human destinies:
In all Depaul Slovakia facilities, 1,800 homeless people are taken care of every year.
The dormitory sleeps 1,200 people a year and gives away 200 portions of hot soup a day.
The infirmary provides treatment and hygiene to 40 clients a day.
In the Shelter of St. Louise, 60 seriously ill people are taken care of a year.
Homeless people are currently cared for by 70 employees and 40 volunteers.
One night in the dormitory costs € 9.
A bed in the Shelter of St. Louise costs € 15 a day.
How can you help?
Live stream is free and during the concert, you can make a voluntary contribution that will help the Depaul Slovakia staff provide accommodation or food for homeless people.
You can also send an empty text to number 827 to support the work with homeless people. The price of a text is € 3.
You can also choose to donate a different amount via www.depaul.sk
Or adopt a bed on www.adoptujsipostel.sk.
More information is available on: www.depaul.sk and www.pohodafestival.sk.
FB event: www.facebook.com/events/2982128048703999
Link to livestream on YouTube (with a reminder): https://youtu.be/2ff8t4HJ5DI