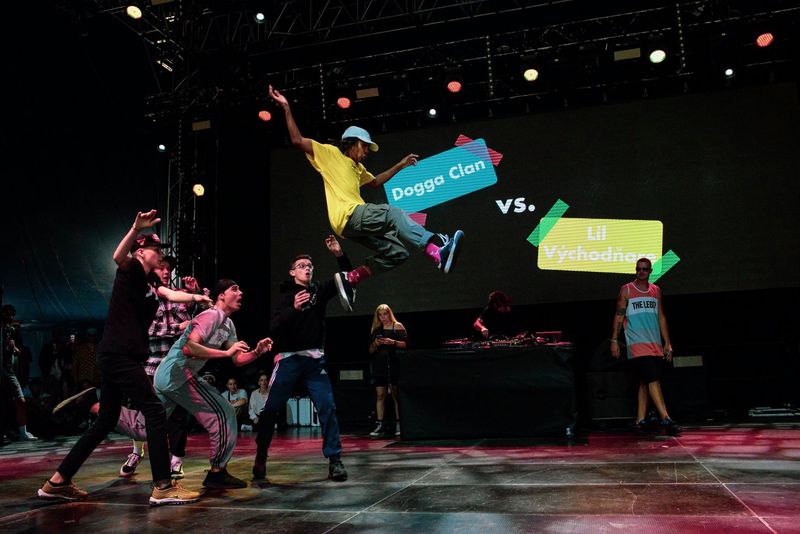 Street Dance Battle at Pohoda 2022
Pohoda 2022 will again have the legendary dance show Street Dance Battle, whose dramaturgy is being put together by Otec Mirec. Top dance groups fight for the favour of audience in our largest arena. DJ Maikl Knight, a lover of house music who allegedly has a great sense of hard kicks and vibrating hi-hats and brings sound flavours ranging from England to South America to his selection, will take care of the musical background.
20. June 2022
Otec Mirec will be at the mic again. He is one of the few to have his vast experience—he has been to a number of similar events in the Czech Republic and Slovakia and his energy, word play and unexpected breaks surprise, teach, and entertain audience. In addition to the dance world, he was the moderator of the hip-hop special BezPózy_FM on Rádio_FM for three years. The last time, in 2019, Bebes won the Street Dance Battle. They have been unchallenged on the throne for an unusually long time, but that will change in 17 days, as always, on Saturday around noon. 
CREWS:
FRANKIE JUICE: The third generation of Slovak street dancers, which brings together dancers from different parts of Slovakia (KE, TN, BA, MT) and brings both geographical diversity and diversity of dance performance. This crew combines explosiveness, ethereal movement, and unprecedented acrobatics.
BIG TIME: A combination of different age categories, where the older dance generation meets the youngest. Musicality, ferocity and accuracy of movements—these are just a few of the hallmarks of this gang.
EAST SIDE: Many talented dancers are born in eastern Slovakia. Many of them often decide to travel further west, yet it is EAST SIDE to be the proud representatives of Košice and Prešov. Their strong point is the style of house dance and popping, but they can do great in any style.
MDMTM: Four women and one man. This predominantly female group is characterised by extravagance, graceful movement, and non-violent expression. However, they have technical skills that should not be underestimated. The male element brings this crew energy, ferocity, and range of motion to that is rare to see.
BEBES: The winners of the Pohoda dance battle 2019 are coming to defend their championship. The slightly changed crew now features a Jamaican dancehall dancer, which complements the original bboy, top Slovak hip hoppers, and a funky dancer.
HIGHT EDITION: One of the longest-running Czech crews has appeared at Pohoda several times. They come from Brno, their team has both disco babes and brisk bboys and they will definitely want to capture the coveted championship.
DOGGA CLAN: A group of young stylish dancers from Prague, who have recently appeared alongside rappers from Milion+. In addition, their quality and ferociousness are making them known throughout Europe.