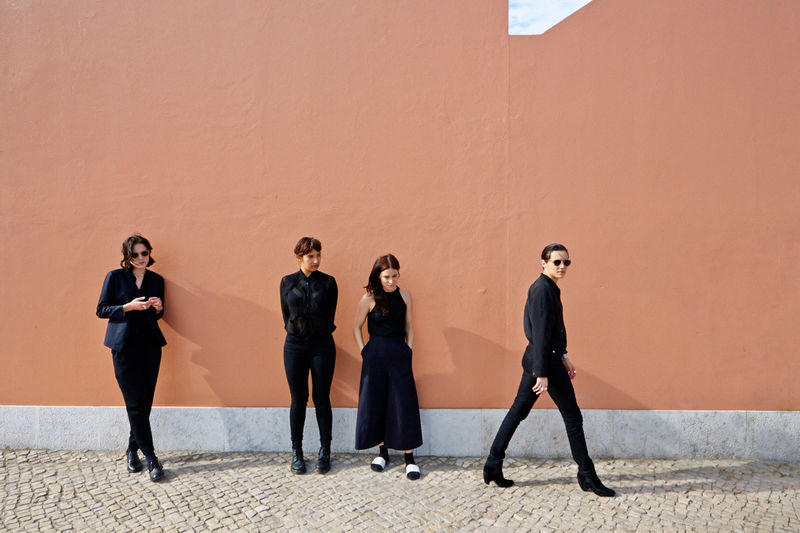 Savages
Already their debut album made it in TOP20 sales chart in the UK and in the final shortlist of albums for the Mercury Prize.
18. April 2016
The Guardian says they allow us to see what the beginnings of Public Image Ltd. and Joy Division looked like and reviews mention also comparisons to PJ Harvey and Nick Cave. The post-punk Savages released another highly rated album Adore Life in late January. We believe that thanks to their performance, the visitors of Pohoda 2016 will truly "adore life".
French actress Camille Berthomier started her singing career under the pseudonym Jehnny Beth and performed together with Nicolas Congém in the duo John & Jehn. In 2011, she and guitarist Gemma Thomson founded the band Savages. Other members of the band are bass player Ayse Hassan and drummer Fay Milton. Some positive (but cautious) reviews of their music came out already before the release of their debut album. The Observer wrote about them that this is the closest to art that post-punk has reached so far. After the release of Silence Yourself, no one spared florid odes. SilverMan wrote: "The girls were just about to record an album at the end of the 70s, but during a trip to Antarctica, they fell into a hole and were frozen until 2012. After melting, they got familiar with music news and recorded a captivating album. With no doubt one of the top three of the year 2013". The average rating of editors reached the great 82 points (out of a hundred) at Metacritic.
Their power-packed debut album has a no less successful successor. On 22nd January, they finished the album Adore Life. Editors in their reviews of the album again do not lack expressive superlatives, such as Brandon Stosuy of Pitchfork: "Check out the sweaty live clip for the excellent anthem ʻThe Answer', which finds the audience losing their shit and their shirts." The band is said to be alleged of being too serious at times. According Stosuy, it is due to the intensity with which they look also at love as a powerful element. He adds: "Nobody even expects swans to laugh". Savages will play the elegant but slightly dirty, urgent, and very direct post-punk at the 20th Pohoda.