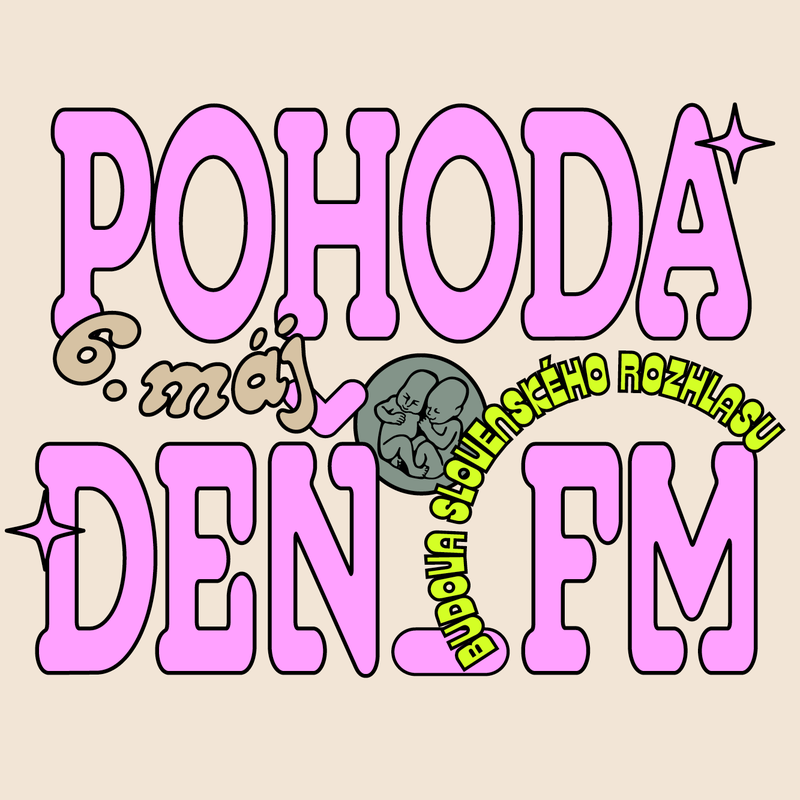 Pohoda day_FM again with live audience after three years
There are only few names that visitors to Pohoda have grown fond of as much as of Donny Benét. This Australian bon vivant and music time machine is returning to Slovakia after three years and will perform with the band at Pohoda deň_FM on Friday, the 6th of May. From the east coast of Australia, band Greatest Hits will bring a gust of the 70s, psychedelia, and a lot of sun. The stars of the indietronic genre, Icelandic band múm, will offer a darker and dreamy atmosphere, and they will play a live soundtrack to the cult silent movie from the 1930s, Menschen am Sonntag. When it comes to the local scene, we will hear performances of FVLCRVM, Quatro Emocione, 52 Hertz Whale, and Nina Kohout. You are invited to come and play table football to win festival tickets; we will also reveal new names and other news about Pohoda 2022 at the official press conference. Janka Imrichová, head of Rádio_FM, finds joy beyond the varied programme: "After two years of empty concert studios, we are very happy to return to the original intention of Pohoda deň_FM—to meet and share the joy of music and mutual presence." Admission to the event is free.
06. May 2022
FB event: https://fb.me/e/1XIr2lZYy
PROGRAMME
08:00 am – 10:00 am Ráno na eFeMku (Studio 5)
10:15 am press conference
2:00 pm – 6:00 pm Popo_FM (Studio 5)
Nina Kohout
52 Hertz Whale
6:00 pm – 10:00 pm Baláž and Hubinák
6:10 pm Greatest Hits (Studio 5)
7:10 pm Donny Benét (Studio 1)
8:20 pm Quatro Emocione (Studio 5)
9:15 pm múm (Studio 1)
múm
The Icelandic band múm plays dreamy music oscillating between the indietronica and glitch pop genres. At the turn of the millennium, they became popular with their great albums Yesterday Was Dramatic – Today Is OK and Finally We Are No One. They are coming to Pohoda deň_FM with a special project that includes providing sound the cult German silent film Menschen am Sonntag. The film, cast by non-actors, shows a wonderful poetics of the weekend before Hitler came to power. Gunnar Örn Tynes and Örvar Smárason musicalized also other centuries-old cinematographic legends, such as Nosferatu: A Symphony of Horror and Battleship Potemkin, but they love most the "People on Sunday" (Menschen am Sonntag). Örvar Smárason explains: "The film has it all—a vivid portrait of our beloved Berlin, the spontaneity of youth, the rawness and experimentation of the bold pioneers of the film, who did things their way. Add a simple everyday story and human sexuality with a strong political undertone." The band used to play the music for the film with various musicians as part of regular improvisation evenings in Reykjavík. They subsequently brought its more settled version on tour in Europe and performed several times also in the German capital during the Berlinale festival. The recordings from Berlin became part of the Blu-ray release of the film produced by the British Film Institute.
DONNY BENÉT
Kylie Minogue, Nick Cave, INXS, Tame Impala... Australia has exported a number of music stars, yet, at least on Facebook, the largest Slovak fanclub cheers for the Australian post-disco phenomenon Donny Benét. Fun fact is that at his premiere in Slovakia (at Pohoda 2018), he appeared as an artist familiar only to experts in the lo-fi scene. But Donny's songs and charisma worked immediately. Even security service, photographers, stage managers, and bartenders danced at his concerts. At the subsequent sold-out autumn tour, he was accompanied on sax by his brother Dan; he performed at Pohoda 2019 with the whole band as part of the European premiere of The Donny Benét Show Band. By that time folks had already pulled glittering pieces out of their parents' closets, just so that many of them would eventually end up under Donny Benet's feet. In 2020, he joined Slovak fans with a set from his Australian studio specially created for the Pohoda in the Air festival. He intended to return to Europe with the band last year, but the plan will come true only these days and one of his first stops to play for fans will be in Slovakia again. In addition to favourite hits, he will perform new songs from the album Mr. Experience and the latest instrumental EP Le Piano. NME highlighted his ability to restore the music of 1980s to a modern yet classic form. The magazine said that his "post-disco party guilty pleasure of the last decade" is music made for late-night dancing under the influence, hoping that no one else is watching.
Greatest Hits
Donny is accompanied on his European tour by an international band from Gold Coast, Greatest Hits. While Donny is reminiscent of the 80's, Greatest Hits will take us yet one more decade back into the past. A gust of the seventies, psychedelia, surf-rock, and, above all, very catchy rhythms and melodies. Simply put, Don can choose well. The band formed in the north of England when Australian artist Ryan Cooper teamed up with friends from around the world with the simple intention of doing something that has a groove. Due to visa problems, he eventually returned home from the United States, and today the band consists of Ryan Cooper, Chelsea Foley, and Henry Chatham. Their music is about handling the heavy things lightly. Ryan says: "We want to laugh at our insecurities, and point out our struggles, while having a good time!" They have released two successful EPs Vol. One and Volume two. Greatest Hits announced the tour with Donny saying: "We are very excited to announce that in May we will be on the road with none other than Mr. Experience Donny Benét. What?! This is literally a dream come true for us." They will also spread this joy in the Slovak Radio building and on Rádio_FM to the whole of Slovakia.
Quatro Emocione
The favourite genre Vapor/synth or, more specifically, post-virtual secondwave lo-fi hyperpop will be represented at Pohoda deň_FM by the Bratislava band Quatro Emocione. As the name of the band suggests, their music is about strong emotions, and the group consists of six excellent musicians led by singer Kristína Smetanová. Well Kristína graduated in piano, but it is her to make singing-like melodies using the Vocaloid vkb-100 keyboard. The project includes bassist Miloš Bulík, also active in formations Space Cats, La3no Cubano, Erik Šulc & Tribal Colors, Isobutane and others. A year ago, they released the EP Cheetahs In Danger, which discusses interpersonal relationships, parties and, last but not least, cheetahs as an endangered species.
FVLCRVM
FVLCRVM is a solo electronic project by the well-known Pišta Kráľovič, also known as a member of band Nvmeri (formerly The Uniques). In this musical incarnation, he intertwines the production of marginal club genres with pop lines using the help of rediscovered sounds of the '90s. His track "Hi!" was ranked No. 1 in the renowned playlist "Fresh Finds" and was included also in the BBC Radio 6 music playlist (played by Mary Anne Hobbs). His other single, "Words", provided an insight into his version of the dystopian future and has been played more than a million times on Spotify. The track "Words" was also included in the Song Of The Day selection on KEXP, where it was played by DJ Kevin Cole. FVLCRVM's live performances break down the barriers between a DJ set and a live performance. This was one of the ways he managed to captivate the bookers of the two most important showcase festivals in Europe, the Dutch ESNS and the German Reeperbahn. In the summer of 2020, he released his debut EP Attentioncore, for which he was  awarder with Radio_Head Awards (in elektronic music category). In past months he also released more great tracks such as "Come Get Some", "Do It All Again", "Wildfire" and "X-tacy".
52 Hertz Whale
The band 52 Hertz Whale gained popularity mainly thanks to their energetic performances in clubs and festivals throughout Europe, such as Liverpool Sound City, Ment, Colours of Ostrava, Žižkovská noc, and Pohoda. Derek Roberts of Drowned in Sound described their concert at the Sharpe Festival as the most intense, vibrant performance he'd seen over the weekend, and added: "There is a euphoric, post-rock side to them and they are super melodic, yet they also have this captivating power, and when their madness is unleashed, it's really spectacular." After their performance in Liverpool in 2019, the Getintothis portal chose their song "Fish In The Dead Sea" as the single of the week. So far, they have released two EPs and in front of them is another great opportunity to get recognised in the musical Europe. Together with Bulp, they represent our music scene at this year's online edition of the Eurosonic Noorderslag festival.
Nina Kohout
Nina Kohout studies at the prestigious London music school The BRIT School, alma mater also to Adele and Amy Winehouse. Last year she won the Discovery of the Year award at the Radio Head Awards and at the beginning of this year she released her debut EP Pandemonium that was very well received.  Only a few days ago, she opened a series of concerts by the Israeli band Lola Marsh with her emotional performances and will also perform at Pohoda deň_FM.
The traditional warm-up event of Pohoda is prepared by the festival organisers in cooperation with Rádio_FM, which will also bring the Pohoda Deň_FM programme in their live broadcast. Admission to the event is free.