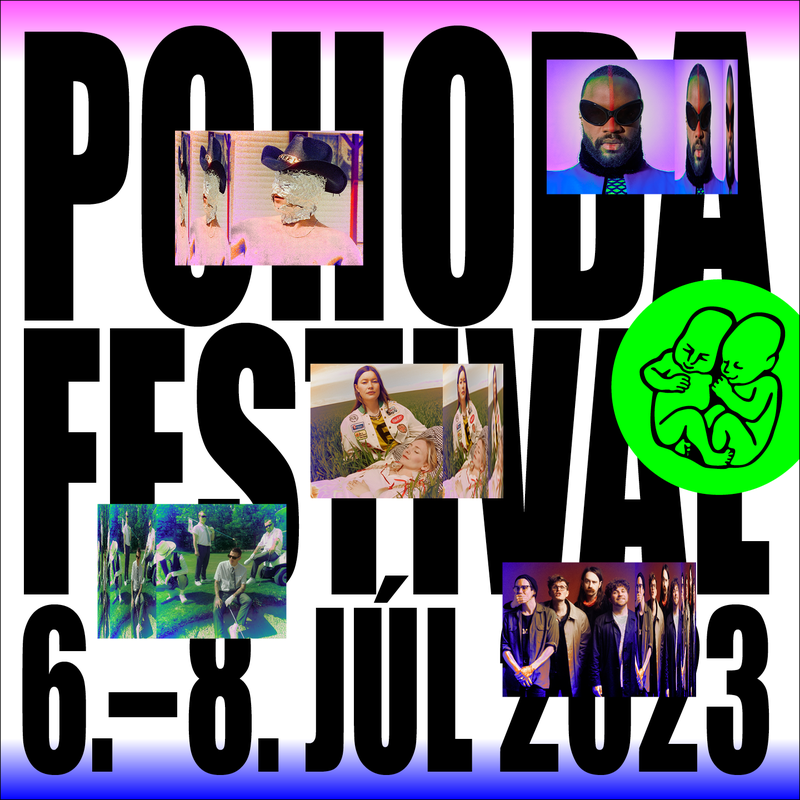 POHODA 2023 WILL WELCOME WET LEG, SHAME, YARD ACT, VIAGRA BOYS AND GENESIS OWUSU
Pohoda Festival has released the first names of artists who will perform at Trenčín Airport from July 6 to 8, 2023. Visitors can look forward to a selection of rap and punk in particular, but rock, indie rock, world music, and synth-pop will also be represented. For the 26th edition of the festival, the organizers have symbolically announced 26 international names, complemented by five local artists. Among the biggest names in the first wave of announcements are the British bands Wet Leg, shame, and Yard Act; Genesis Owusu from Australia, and the fantastic Viagra Boys from Sweden, who return to Pohoda after 4 years.
07. December 2022
"We originally formed the band because we wanted to get free entry to festivals," explain the British girls who formed the band Wet Leg. Now festivals are trying to get Wet Leg to perform at their venues and Pohoda has succeeded. Wet Leg's debut album was nominated for the Mercury Prize this year and they currently have four nominations for the prestigious Grammys, which will be held in February 2023.
Another confirmed name is the British band shame who were originally scheduled to perform at this year's Pohoda, but were prevented from doing so due to health reasons. The South London lads known for their love of live performances are hailed as post-punk's greatest hope. In 2018, they released their debut album Songs of Praise, which catapulted them to great heights. Just in November 2022 they released their new single Fingers of Steel and announced the release of another album Food for Worms scheduled for February 2023. So, they will come to Pohoda with their latest album.
Viagra Boys from Sweden are also a familiar name for our regular visitors, and they return to Trenčín Airport after four years. Viagra Boys is a fierce post-punk satire and a mirror of the absurdity of our existence. They confirm this with their latest album Cave World, released in July 2022 right after their sold-out American tour. In it, they poke fun at 5G-fearing conspirators, anti-vaxxers and Donald Trump voters, and express their dismay.
Another young but already successful band that will perform at Pohoda 2023 is the British band Yard Act. They are considered an indie-rock and post-punk wonder from the UK. How else can you describe a band that was formed just before the pandemic, managed to play only three concerts, and still became famous? They released their debut in early 2022, performed at Glastonbury that summer, and closed the year by nominating their debut album The Overload for the prestigious Mercury Prize 2022. Elton John is also a big fan of them and collaborated with them after the release of their debut album.
After this year's strong representation of the Australian scene, Pohoda organizers have once again managed to confirm a well-known name from the other side of the globe for the next edition. Rapper Genesis Owusu, if we can categorize him like that at all, has achieved exponential growth worldwide after the release of his debut album Smiling With No Teeth in March 2021. Genesis Owusu is redefining the role of the music genre. His work is an indescribable mutation of rap, industrial punk, synth-pop funk, folk, and other, sometimes unimaginable, combinations.
Rap and hip-hop will be strongly represented at Pohoda 2023. The great and provocative BigKlit, known for her lyrics about bisexuality, dysfunctional families, and self-acceptance, will fly in from the USA. She is praised for her angry, almost growling vocals and wildly bold lyrics. After a successful performance at the Concert for the Attentive on November 17 in Bratislava, Alina Pash will return to Slovakia, this time to Trenčín. The music of this Ukrainian singer and actress alludes to elements of R'n'B and hip-hop and mixes them with elements of the Carpathian ethnic groups. Pete & Bas, who started rapping and creating in their "old age", will come from London. Great Britain will also be represented by the young rapper Hazey, believed to be from Anfield in Liverpool. He performs wearing a balaclava and his identity is not known to the public.
Soul singer Liniker – the first transgender woman from Brazil to win a Latin Grammy – will also perform at the next edition. Belgian electropop duo Charlotte Adigéry & Bolis Pupul will perform a mix of funk, house and techno that will make you not only dance, but also think about topics you do not usually hear in dance music.
Artist, political activist, and Pussy Riot member Nadya Tolokonnikova will come to Pohoda again, this time as a solo artist. After his lost luggage prevented him from performing in Trenčín this year, the multi-talented instrumentalist Mezerg (FR) will introduce himself to the Pohoda 2023 audience. He creates electronic music ranging from funk to acid techno using specially modified instruments. Great Britain will also be represented by the young indie-rock group The Orielles and the electronic "country-friend techno" trio PVA.
From the Slovak scene, ERØ and TRANSmisia have been confirmed so far. They also shone at the Concert for Juraj and Matúš in November as part of the Slovenská Tepláreň Festival. Rap enthusiasts can also look forward to Slovak representatives in the form of Gleb and Dušan Vlk. These will probably not be the only names from the Slovak hip-hop scene. We will also have one joint Czechoslovak performance at Pohoda – Massola (CZ) and Sedem minút strachu (SK) will perform on the same stage. Both bands toured together in Japan.
The organizers have also announced other international artists: Psymon Spine from New York; post-punk hit CUMGIRL8; and a young band from Manchester Mandy, Indiana. From Latin America will come the Mexican alternative group Margaritas Podridas, the Brazilian multi-instrumentalist Hermeto Pascoal as well as the Argentinian experimental rock band Blanco Teta. The African-European trio Avalanche Kaito will put you in a tranc. Africa and world music will be represented by Kimi Djabaté. In addition, Pohoda 2023 will also have Korean representation in the form of alternative pop band LEENALCHI and an experimental girl trio and amazing wonder of Womexu 2022 - band groove&.
More names of artists and news will be released soon.
Pohoda Festival will take place from July 6 to 8, 2023 at Trenčín Airport.
A season ticket at a reduced price of €119 can be purchased only until December 10, 2022.