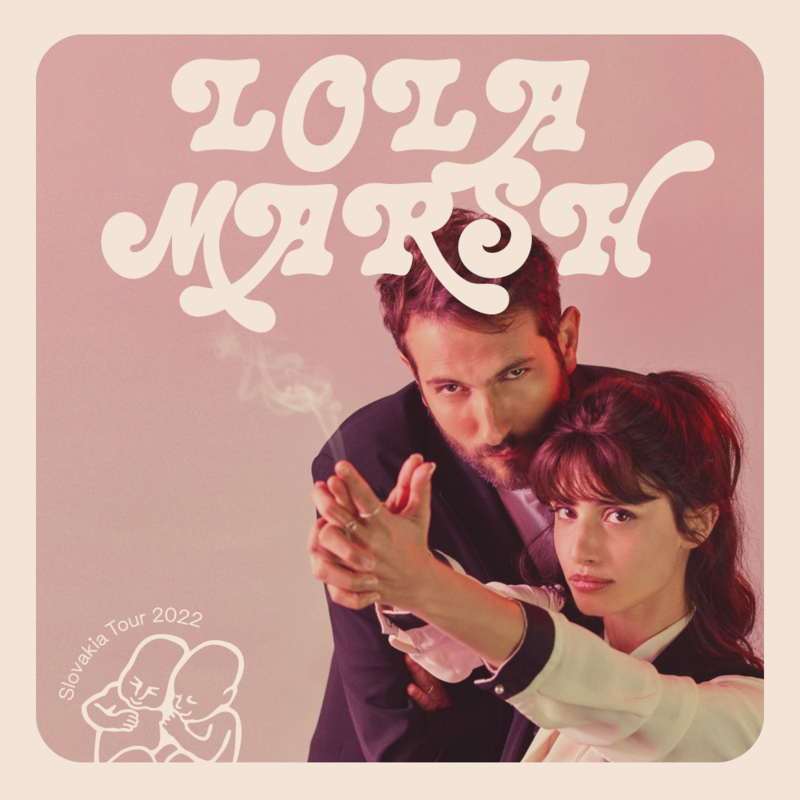 Lola Marsh already after Easter in Trenčín, Bratislava and Žilina
Our friends from band Lola Marsh will return here shortly after Easter and will perform live the great songs from their new album Someday Tomorrow Maybe. On the 22nd April, they will play the Piano Club in Trenčín, on the 23rd April in the Refinery Gallery in Bratislava, and on the 25th April at a sold-out concert at the Žilina Town Theatre. As a support act, the concerts will feature talented Trenčin-based singer Nina Kohout.
05. April 2022
A musical love at first sound: that's how we could describe the relationship between Pohoda, its visitors and the band from Israel, Lola Marsh. As an unknown band, they played our main stage during their Slovak premiere in 2014. The chemistry worked right away. A tour, several solo concerts as well as other gigs at Pohoda followed. On June 9, 2017, they released their debut Remember Roses, whose success got reflected immediately in various streaming services charts and, overall, increasing interest in this amazing band. Film (Criminal) as well as TV series (Better Call Saul) producers started using their songs and their tracks also appeared in several commercials (eBay, Crédit Agricole). The success of Lola Marsh is not based just on Yael and Gil's chemistry. The duo collaborates with experienced musicians such as Mati Gilad (bass guitar), Rami Osservaser (guitar, piano) and Dekel Dvir (drums). Thanks to their amazing live shows, they have gradually become one of the most wanted Middle Eastern bands in Europe and the United States. Praises media such as Le Monde, NPR, Paste Magazine, NYLON or the Observer sing about them prove it. 
Michal Kaščak took the time to comment: "Lola Marsh is often labeled as indie-folk or dream pop – in my opinion this is truly accurate. Their music is filled with some many influences and undercurrents that I can easily imagine it sounding like a soundtrack to some grim Quentin Tarantino movie. They sound in a way that makes it impossible to confuse them with someone else; their music is filled with not only amazing creativity, but also with passion, enthusiasm, and playfulness. I'm happy that due to their connection with Slovakia we can pretty much consider them to be our "home" band." The warm-feelings are mutual. In response to an interview question by French Rocknfool regarding their most-loved concert, Gil and Yael unanimously answered: "The one on Pohoda". At the beginning of 2018, they kicked off their biggest solo concert in Refinery Gallery with an unforgettable version of the Slovak song Čerešne, with 1500 people joining Yael in singing it. With the same song, this time joined by Zuzana Kronerova, Lola Marsh also enchanted last year's Pohoda Festival's 30.000 guests. At the beginning of this year, the band released their second album Someday Tomorrow Maybe. Out of the dozen songs, they have already captivated the audience with previously released songs with great videos such as "Only For a Moment" and "Echoes". Their visual side was taken care of by Indy Hait and the collaboration brought them victory at the Berlin Music Video Awards in the Best Song category for the song Echoes, which we also used as background in the aftermovie from Pohoda 2019. Lola Marsh also won second place in the Best Cinematography category for the video for song Only For A Moment. Their second studio album was praised by Billboard and the A1234 portal, and the latter wrote about the album: "It's hard not to fall in love with Lola Marsh's music after listening to this." Fans in Slovakia can fall in love with songs from their new album at the end of April 2022.