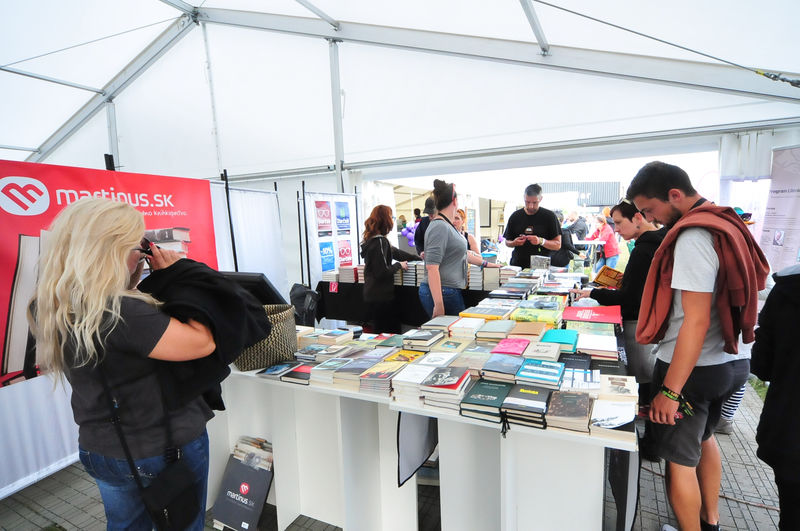 Literary tent Martinus.sk
For the first time ever, KNÍHKAVIAREŇ (Book-coffee-shop) with cofee-shop Foxford: this is what the many-year partner, Martinus.sk, will look like at the festival. It will offer readings of Slovak authors performed by popular actors (Čau o piatej), the presentation of the best Czech book of the last year, Dějiny světla (The History of Light), by its author, and, of course, the favourite modern formats liteRAPtúra and Slam Poetry that were dicovered for Czechoslovania by Zogatka. You can also enjoy the official release of Dušan Mitana's book, Slovenský poker (Slovak Poker).
20. June 2015
FRIDAY
10:00AM — 11:00AM; Dušan Mitana, Slovenský poker (Slovak poker)
The writing legend Dušan Mitana will introduce a new edition of his iconic book of short stories called Slovenský poker (Slovak poker).
The book offers a dozen of playful and also poetic stories, with elements of humor, absurdity and paradoxes, leading in most cases into irrationality. It was last issued in 2003 by the publisher KK Bagala.

11:00AM — 1:00PM; Poviedka 2014
Author readings and discussion with the winners.
Cast: Michal Baláž, Marek Grajciar, Karol Hajdu, Júlia Polovková, Martin Longa, Miroslav Macko, Dominika Petríková, Miroslava Pjonteková, Radovan Potočár, Katarína Varsíková, and Martin Vlado.

1:00PM — 2:00PM; 1000 věcí co mě serou (A thousand things that piss me off)
Originally a blog that has turned into aready four books full of hating.
A group fo three hater experts became a phenomenon on the Czech Internet and is coming to Pohoda to meet Slovak fans.

2:00PM — 2:30PM; Tereza Oľhová and Martina Sľuková, INAK SA MÁM FAJN (BUT I'M FINE)
A tragicomic mosaic of the fate and life choices of a current Slovak maiden. The original text, that evolved spontaneously over the time, is a mosaic of stories, reflections, and dialogues of two young women on issues of life, death, love, moral principles, preserving reproduction, faith, insects, space, happiness, and others.

2:30PM — 3:30PM; Contemporary poetry
Author readings of current Czech and Slovak poets.
Cast: Jaromír Typlt (CZ), Milan Děžinský (CZ), Michal Habaj, Peter Šulej

3:30PM — 4:00PM; Braňo Jobus, Plajko
A new book of the writer from Vrbové. Did you know that there is a Department of the Development and Recording of Dreams? You just have to call and order what you would like to dream about. The Japanese machine Clearly CrazyMe will prepare your dream as desired.

4:00PM — 5:00PM Za (Ruda) Slobodu!
20 years after the death of the legend of the Slovak literature, Rudo Sloboda, you can witness the scenic reading of his friend Zita Furková and listen to the memories of the director Juraj Nvota and literary critic Zora Prusková.

5:00PM — 6:00PM Čau o piatej
A popular programme of the publishing house KK Bagala at Bažant Pohoda.
Celebrities read extracts of books of Slovak authors. Richard Stanke to read Balla, Andy Hryc to read Agda Bavi Pain, Lyrik to read Bene, and Ludwig Bagin to read Kornel Földvári.

7:00PM — 8:30PM Literárny cirkus KK Bagalu (literary circus of KK Bagala)
Literary pell-mell. Authors at the publishing house KK Bagala read from books to be released.
Cast: Anna Kiliánová, Sona Uríková, Ondřej Mrazek, Balla, Václav Kostelanski, Tomáš Ulej, Marek Vadas, Laco Kerata, Agda Bavi Pain

9:00PM — 10:00PM; Fest Anča
Nighttime viewing of recent award-winning films at the International Festival of Animation Fest Anča 2015.
 
10:00PM — 11:00PM; Nu Video Dance
Awarded films in the International Competition of the Best Dance Films.

SATURDAY
9:00AM — 10:00AM; Terry Pratchett, lecture & quiz
Especially the fans of fantasy literature are familiar with the name Terry Pratchett. He became an important figure of (not just) English literature with his series of novels about the fantastic Discworld and a series of books about John Maxwell. In 1998, he became the holder of the Order of Merit of the British Empire for services to literature. Terry passed away this year aged 66; for one hour, we will remember him reading short pieces of his work and doing a quiz for true fans.

10:00AM — 11:00AM; Traja kamoši a fakticky fantastický bunker (Three buddies and a really fantastic bunker)
Barbora Kardošová and the illustrator Katka Slaninková will introduce their book Traja kamoši a fakticky fantastický bunker (Three Buddies and a Really Fantastic Bunker).

11:00AM — 12:00PM; Rudo
The most popular comic sociopath and cynic will come to life in the stage performance of the author Daniel Majling and the actors. The main character of the comic, Rudo, is a thirty-year old stoic, who spends most of the time with his three friends and playing an imaginary guitar.

12:00PM — 2:00PM; Anasoft litera 2014
Discussions of this year's finalists of the award Anasoft litera 2014 and various cultural figures: Richard Pupala and Braňo "Bebe" Bezák, Peter Balko and Samo Trnka, Márius Kopcsay and Mária Hejtmánková, and Erik Šimšík and Lyrik.

2:00PM — 3:00PM; liteRAPtúra
The literary circus of KK Bagala introduces the programme liteRAPtúra, in which the top Czech and Slovak rappers battle with no use of beats and too much corectness to showcase the recitation of their powerful lyrics.
Performing: James Cole (CZ), Strýček Nicholas (CZ), Prezident Lourajder

3:00PM — 4:00PM; Martin M. Šimečka – Džin (Jinn)
The collection of novelettes by Martin M. Šimečka "Džin" was first released as a samizdat. A book about running, (hard) life, and especially about love has since become a cult. Three autobiographical novelettes describing the life of the regime persecuted family and the growing up in the atmosphere of totalitarian grayness. Twenty-five years after the first official release, Džin is finally re-released.

4:00PM — 5:00PM; Jan Němec - Dějiny světla (the History of Light)
A year ago, the novel about the photographer František Drtikol "Dějiny světla" (the History of Light) won the award for the best Czech book, Magnesia Litera. The book will be introduced by its author Jan Němec.

5:00PM — 7:00PM; Čau o piatej
A popular format of the publishing house KK Bagala at Bažant Pohoda.
Celebrities read extracts of books of Slovak authors. Robo Roth to read Ivan Štrpka, Zuzana Fialová to read Jana Beňová, Přemysl Boublík to read Peter Balko.

7:00PM — 9:00PM; Slam Poetry
The competition in an unconventional author's recitation of poetry using the elements of theatre and performance. The Czechoslovak finale brings the best of both the countries. The event is dedicated to Zogatka, who discovered Slam poetry for "Czechoslovakia".
Cast: Vlado Janček, Paľo Čejka, Kováč, Dorotka, Anatol Svahilec, Metoděj Constantine, Barbora, and Bohdan Bláhovec.

9:00PM — 11:00PM; Festival Áčko
Nighttime viewing of awarded films at the student film festival.

11:00PM — 12:00AM; Jo Nesbø: recording of the meeting
Viewing of the recording of the meeting with the most popular author of detective sotries today held in May 2015 in the bookshop Martinus.sk in Bratislava. The interest in the meeting was enormous and the first 100 tickets were sold in 23 seconds. Jo Nesbø was interviewed by the moderator Juraj Šlesar and the interview was skilfully translated by Jozef Zelizňák who has translated all his detective books into Slovak.