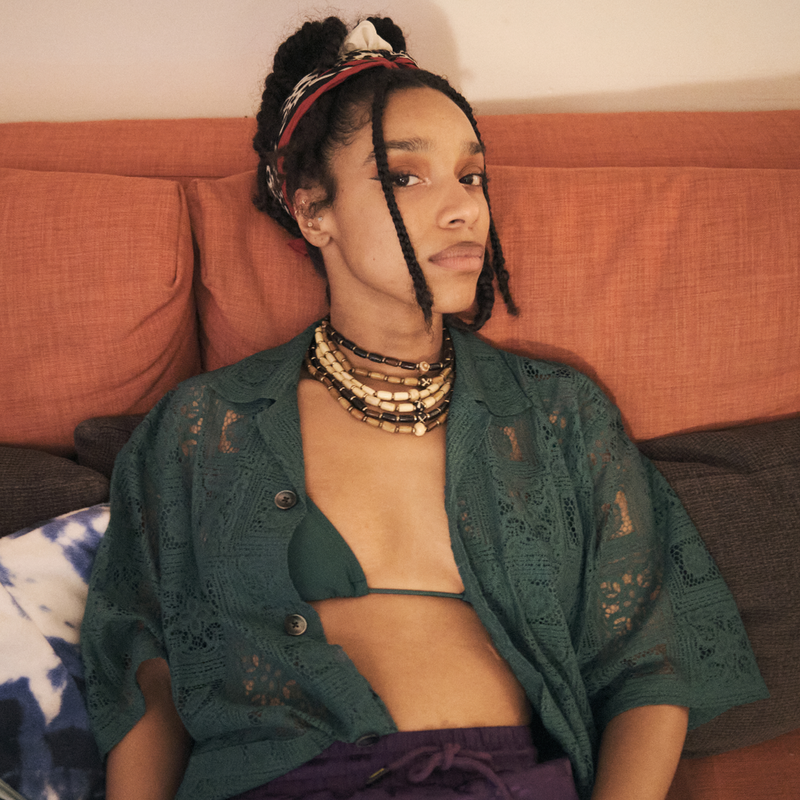 Lianne La Havas back to Pohoda with a new album and the band
We only exceptionally repeat booking of foreign stars, yet sometimes we think it is necessary. The performance of the British neo-soul singer Lianne La Havas will fall into that category. In 2019, she won visitors to Pohoda performing alone with her guitar, and this year she will appear with the whole band and a new eponymous album. Her third studio album has had the best media response so far, bringing her the award for best album at last year's Ivor Novello Awards, a nomination for the Brit Awards, and comparisons to r'n'b legends such as Jill Scott and Erykah Badu.
12. April 2022
Her work, musicality, and excellent uniquely coloured voice appealed to names such as Prince, Alicia Keys, Justine Vernon (Bon Iver) and, of course, the organisers of Pohoda, the latter confirmed in Michal Kaščák's commentary after the festival in 2019: "Of the bigger names, I've only seen a little bit of Charlotte Gainsbourg and Lianne La Havas, who, in my opinion, is one of the strongest figures in the contemporary music scene. She and her guitar dominated the vast space, very naturally, charmingly, unforced. She is a great talent with very human communication and, fortunately, this is also true in backstage. She is the kind of artist who doesn't pretend at all, and maybe that is why she is doing so well." This year, her performance will be supported by the accompanying band: to get a better idea, we recommend watching her perform at the NPR Music Tiny Desk Concert, which is among the most viewed in the history of this popular series.
The daughter to a Greek father and Jamaican mother, Lianne was born in the late 1980s in London. She was immersed in music since her early childhood and was influenced by her parents' extremely diverse music tastes. Lianne began singing at the age of 7, and wrote her first song at the age of 11. She learned the basics of guitar and piano from her father, and it is the excellent guitar play that decorates her performances, along with the enchanting voice. However, she didn't learn to play guitar until she was 18. She started her professional career as a vocalist for Paloma Faith. Her own pieces were discovered on MySpace, but three more years passed until she released her first EP Lost & Found.
Her opening track, "No Room For Doubt," featured Willy Mason. On the day of the release of the album, Lianne also appeared on Later… with Jools Holland, a programme that also featured band Bon Iver. Justine Vernon (singer) was so fascinated by her performance that he called her the next day and asked her to support them on their North American tour. The song Lost & Found also became the first single of her debut Is Your Love Big Enough?. PopMatters rated the album 9 out of 10 and commented that it isn't often that audiences are given so much all at once from such a young artist. She has been praised by Los Angeles Times and New Your Times, Boston Globe, and Q and Clash magazines. The album peaked on the 4th place of the British charts; iTunes called it the album of the year, and it received nominations for the Mercury Prize and Ivor Novello Awards.
Shortly after that, she supported Alicia Keys at MTV ʽCrashes' Manchester, and performed at Glastonbury and Isle of Wight. Another star that was captivated by Lianne in the early beginnings of her career was Prince. He invited her to collaborate on the album Art Official Age and played a gig in her living room in London. She also appeared on an Alt-J's album on the track "Warm Foothills" and collaborated with Aqualung on the song "Eggshells". In the summer of 2015, she released her second album inspired by her roots called Blood. There, she expanded her genre range to neo soul, jazz, and R&B, and she was likened to Lauryn Hill and Jill Scott. The album contains beautiful songs such as "Unstoppable", "Green & Gold", "What You Don't Do", and "Wonderful". The album topped the charts the Netherlands, was second in sales charts in the UK, and it earned Lianne a Grammy nomination. In 2017, she did a cover of "Starry Starry Night" by Don McLean for the film Loving Vincent that tells the story of Vincent van Gogh. Another of her great covers is the one of Aretha Franklin's "Say a Little Prayer" that has recently appeared in This Is Us.
In July 2020, she released her eponymous third album, Lianne La Havas. Marked by her own experience of breakup, it is a cycle of songs depicting the phases of a relationship, from early romance to demise. It is a metaphor of nature, more specifically flowers that bloom, fall off, and return even more beautiful and stronger. The New York Times lead music critic Jon Pareles wrote about the album: "The songs illuminate passion, impulsiveness, ambivalence and uncertainty, yet the structures La Havas created are lucid and poised. While matters of the heart may be out of control, her fingers and voice are impeccable." Slant magazine wrote: "La Havas's style exists somewhere in the nexus of the soulful warmth of Corinne Bailey Rae, the confessional lyricism of Amy Winehouse, and the folky melodicism of Joni Mitchell." The musicOMH portal gave her the best rating and commented: "Her third album is a beautiful ghost to soundtrack your life to... Truly captivating." The organisers of Pohoda agree with these words, and so Lianne La Havas and the band will appear in less than three months to captivate visitors to the Trenčín Airport.