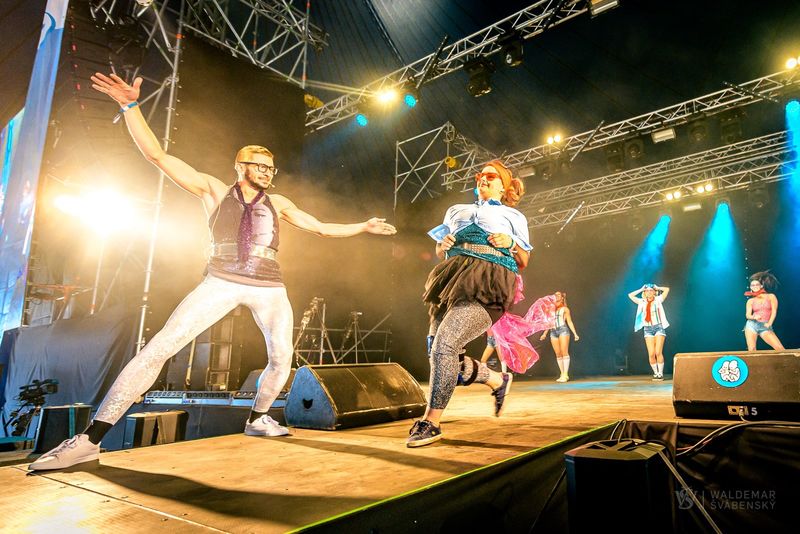 Dance workshops at Pohoda 2022
Interactivity, movement, and fun in various forms are part and parcel of our festival. As per tradition, they have their special place under the roof of the Nay Dance House. The husband and wife Fero and Barbora Morong, who have been running the Dance House for many years, have been organizing them continuously in Slovakia for the last 20 years. This year, it will open its doors to visitors on Thursday. Its space will belong to a special and relaxed musical production to celebrate 25 years of Pohoda. The Friday and Saturday dramaturgy is traditionally divided into day and night parts: the day one focuses on interactive dance workshops with a selection of the best from traditional as well as contemporary dance culture.
06. July 2022
On Friday morning at 9 o'clock, Miroslava Kosirínová with her partner Vladimír Hamza will take over the dance floor at a special dance class named "Shall We Dance?" where they will offer a short excursion into the world of ballroom dancing.
The dance workshop named "Spiš-neSpiš" with the Morongs accompanied by the music of the phenomenal Michal Paľko and his MOJŠE BAND, and stylish Goral music by MAGURA will guarantee not only an unforgettable musical ethno-experience but also a delightful and musical fusion of Goral and Jewish culture, for which administrative borders do not apply.
After all the dancing, you won't be able to fall asleep for a long time... There will also be favourite and original movement creations of Petra Polnišová and Laco Cmorej in "stand-up dance comedy" named "Glitters in Rhythm".
Saturday morning will begin spectacularly. The husband and wife Monika and Matúš Kopernický will present the American "Hustle Dance".
Michal Noga with NOGA BAND together with the talented dancer Bogdan Balázs will bring a delicious taste of Roma culture and passionate Čapáš dance movements.
Once again, we prepared the exclusive Clip dance for the festival's visitors. The great Simona Machovičová and the energetic BLACK MIDI will enrich the captivating dance clip to the song: John L https://www.youtube.com/watch?v=GT0nSp8lUws. Animal costumes are welcome ;)