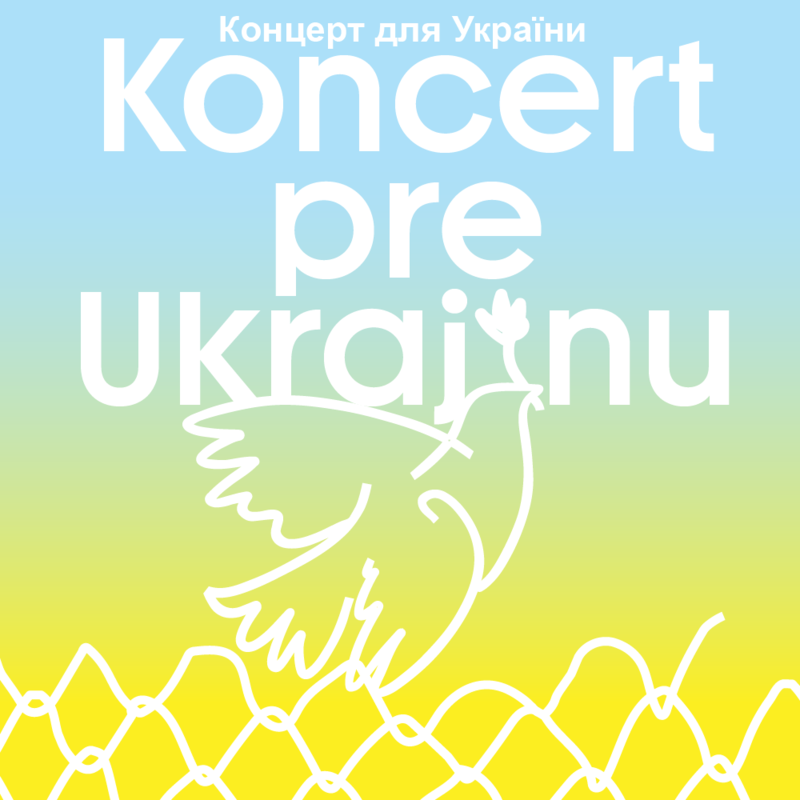 Concert for Ukraine
This Sunday, 27th February, we are holding the Concert for Ukraine/Концерт для України on Bratislava's Main Square. "With this concert, we want to show our solidarity with the people of Ukraine. The liberal arts are developing best in free countries, and we know that our friends in Ukraine are trying to do the same. Every year, great artists from Ukraine perform at Pohoda, we receive representatives of their media, we have many visitors and great relationships with promoters from Ukraine. We want to let them all know also this way that we are with them in these difficult times. By the way, it is clear that if a similar attack concerned Slovakia, one of the first targets would be the Trenčín airport, which is also used for many civilian activities, including our festival," says Michal Kaščák.
24. February 2022
Shceduled live stream:
Line-up:
15:00 Soloists of the musical and dramatic ensemble of Taras Shevchenko + Ľubica Čekovská, Eugen Prochác, Juraj Burian, Raymund Kákoni, Ivor Kocava
15:10 Saténové ruky
15:15 Katarzia
15:20 Para
15:30 Rodion Sun Lion
15:35 Charmsove deti
15:40 Neha!
15:45 Hudba z Marsu
15:50 Braňo Jobus + Martin Valášek
15:55 Sendreiovci
16:00 Čad
16:05 B-Complex
16:10 Slovak Philharmonic Choir
16:15 Martin Geišberg + Daniel Špiner
16:20 Bez ladu a skladu
16:25 Vladimír Merta
16:30 Muzička
16:35 Funny Fellows
16:40 Polemic
16:50 Štefan Štec + Peter Kunzo
17:00 Rozpor
17:10 Lash & Grey
17:15 Miklei
17:25 Banda
17:30 Michael Kocáb + Martin Wittgruber
17:35 Technik STU choir + Apollo choir + Veronika Demidovich
How you can help:
https://donate.magna.org/sk/ukrajina/
https://redcross.org.ua/
https://clovekvohrozeni.sk/humanitarna-pomoc/ukrajina/
https://smespolu.org/ako-pomoct/
charita.darujme.sk/ukrajina
www.donio.sk/kto-pomoze-ukrajine