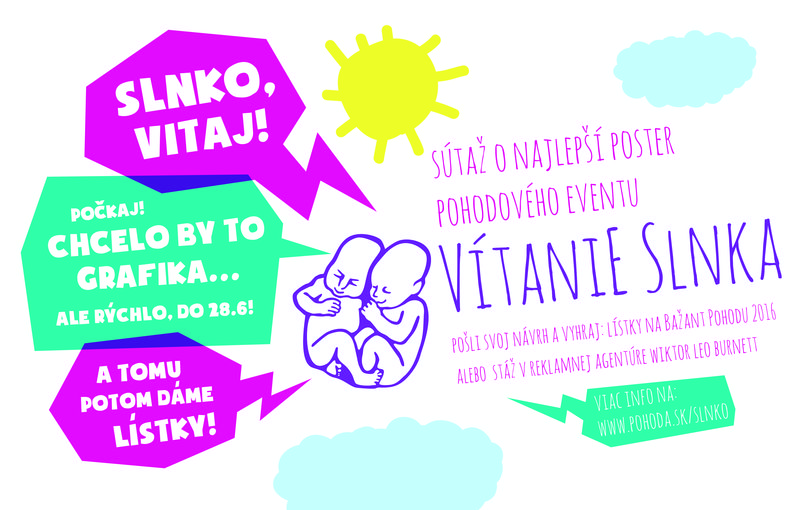 Competition for tickets to Bažant Pohoda 2016
Design a poster inviting to this year's Welcoming the Sun and win!
18. June 2015
All posters that will make it to the finals we be exposed for viewing in Pohoda alley at the festival and three winners will be chosen by voting on Facebook and the decision of a jury:

1. A winner with the biggest number of likes;
2. A winner chosen by the jury consisting of Bažant Pohoda team;
3. A winner chosen by the jury of the advertising agency Wiktor Leo Burnett.

Each of the three awarded artists will receive two tickets to Pohoda 2016 and the winner, that will be chosen by Wiktor Leo Burnett, will receive a 3-month internship in the advertising agency.
Create your design in A1 format and 150 dpi resolution and send it as JPG along with your FB contact to WLB at vitanieslnka@wlb.sk. Write something about yourself and add links that can be useful (Behance, LinkedIn...). All this must be done within 28 June.
For more information please go to www.pohodafestival.sk/slnko

Your poster must contain:
Welcoming the Sun 2015
5:00AM to 6:00AM
11 July Kippi Kaninus Band
+ winners of the contest for the best poster of Welcoming the Sun will be announced
12 July 2015 Sendreiovci (SK)

Winners will be announced during Welcoming the Sun on 11 July 2015 and published on the FB page of Bažant Pohoda.