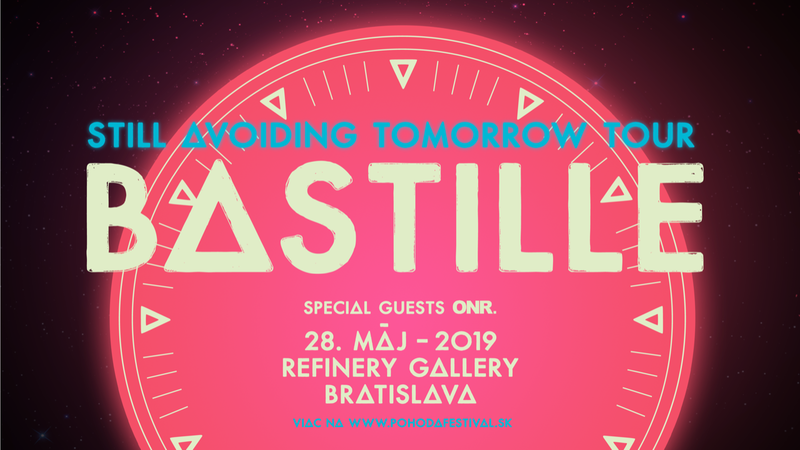 Bastille to reschedule their concert to May 28
The date of the band's concert at the Refinery Gallery changed from February 20 to May 28, 2019. The band's representatives said: "We must reschedule the Bratislava concert due to unforeseen circumstances." The concert will take place on the nearest possible date, at the end of May. The opening act will be the Scottish singer ONR., however, the other announced artist, Lewis Cappaldi, will not perform. If you have already purchased tickets and the new concert date does not fit you, you can request a refund (and the ticket will be made void) by e-mail at shop@pohodafestival.sk. The first concerts of the "Still Avoiding Tomorrow Tour" have been praised in reviews by NME and The National Student. On behalf of the band, we apologize for any inconvenience. We already look forward to seeing you at the Bastille concert on Tuesday, May 28, 2019.
20. February 2019
One of Britain's most successful contemporary bands, Bastille, will perform at the Bratislava's Refinery Gallery on their "Still Avoiding Tomorrow Tour". Their song "Pompeii" has more than one billion streams on YouTube and Spotify combined. Their summer piece "Happier" (feat. DJ Marshmello) had more than 100 million streams in just a few weeks. They have been awarded at BRIT Awards and NME Awards as well; their awaited third studio album Doom Days is expected in the spring of 2019. They play new songs and older hits as well on their tour round European metropolises. According to The National Student, their new show is even more energetic than those before and NME adds that Bastille have prepared a party in a post-apocalyptic bunker. You can see their energetic show on "Still Avoiding Tomorrow Tour" at the end of May in Bratislava.