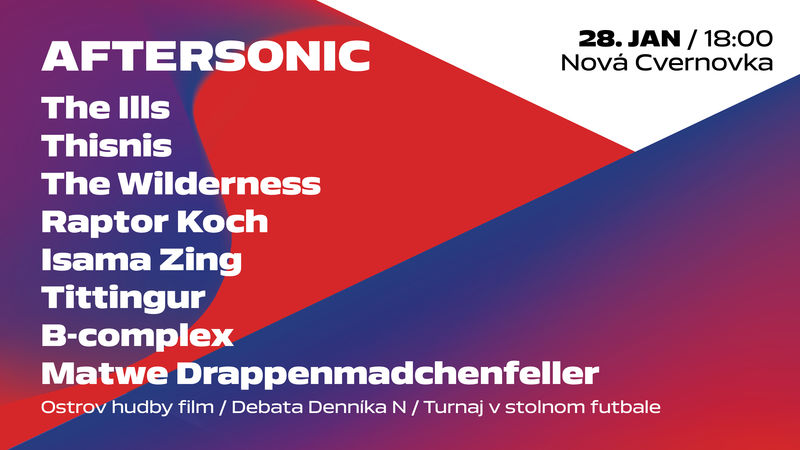 AFTERSONIC – we are bringing the atmosphere of ESNS 2019 to Slovakia on Monday morning
Next Monday, on the 28th of January in Nová Cvernovka in Bratislava, we will give you a sense of ESNS 2019 atmosphere with members of the Slovak expedition. On the way from Groningen, questions of an after-party were often repeated in the joint chat of CZ/SK members. After all, we decided to arrange a smaller version of Eurosonic with a documentary, an aftermovie, a conference (Denník N debate) and eight concerts.
23. January 2019
We'll start at 6 p.m. with the Slovak premiere of Martina Slováková's documentary Ostrov hudby Film (The Island of Music Film in English) and shortly after we'll screen the first video cut by B. Šmotlák and S. Boyd depicting the atmosphere of Groningen. At 7 p.m. the debate of Denník N with Eurosonic Noorderslag director Ruud Berends, Michal Kaščák (Pohoda), Michal Berezňák (LALA), Táňa Lehocká (Real Something), Miro Tóth (Thisnis) and Suzanne Verschueren (Pohoda) will begin. The concert section will take place in both halls – exceptionally named after the ships where the Slovak expedition was accommodated – the Poseidon stage (the big hall), where The Ills, Thisnis, The Wilderness and Raptor Koch will play, and the Ideaal stage (the room by the bar) where Isama Zing, Tittingur, B-complex and Matwe Drappenmadchenfeller will present themselves. A table football tournament will form part of the event as well.
The morning broadcast of Radio_FM will also be dedicated to Eurosonic, hosting the ESNS director Ruud Berends and Michal Kaščák. Ruud, Michal and other members of the expedition will also take part in a briefing for the media in Nová Cvernovka at 11.00. The admission fee 8 € (tickets available on-site only). We are looking forward to seeing you.
POSEIDON STAGE (The Big Hall):
18.00 Ostrov hudby Film – the Slovak premiere of Martina Slováková's documentary
18.55 Aftermovie CZSK Focus ESNS 2019 – the first short video cut by Boris Šmotlák (ROADTRIP)
19.00 – 21.00 Denník N debate
21.00 – 21.40 The Ills
22.20 – 23.00 Thisnis
23.40 – 00.20 The Wilderness
01:00 – 01.40 Raptor Koch
IDEAAL STAGE (the room by the bar):
21.40 – 22.20 Isama Zing
23.00 – 23.40 Tittingur
00.20 – 01.00 B-complex
01.40 – 02.20 Matwe Drappenmadchenfeller
FB event: www.facebook.com/events/142124293362357