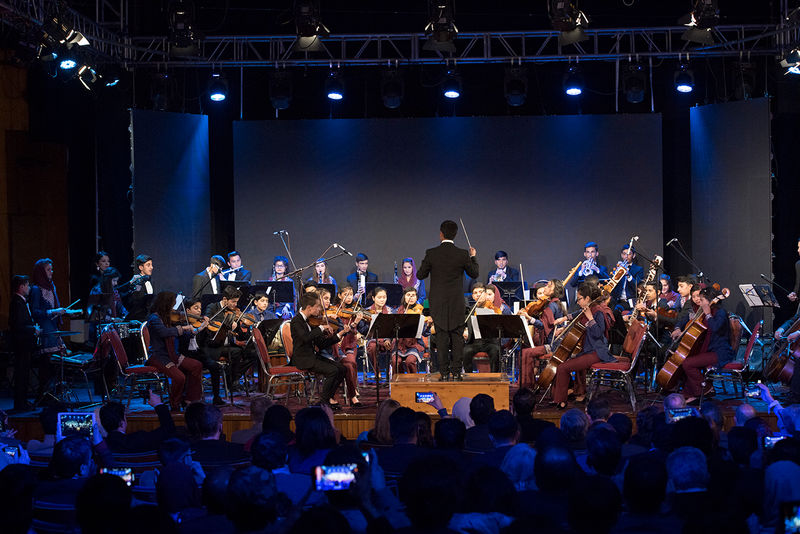 National Orchestra of Afghanistan – cancelled AF
The orchestra is led by ethnomusicologist and founder of the Afghanistan National Institute of Music, Ahmad Sarmast. Ahmad is also the key figure behind the first Afghan Women Orchestra Zohra that performed at Pohoda 2019 (more info about the ensemble HERE). For his activities, he faced multiple threats as well as a suicide bomber attack. Despite warnings about the ongoing danger he kept receiving from authorities, he did not stop following his dream. The smiles of children who could improve their talent and receive education they would otherwise not be able to afford were his driving force.
The children were practicing at his school even on the day when Taliban took Kabul over. Even though the extremists destroyed school facilities including musical instruments in the following weeks, more than 100 students were evacuated in time. As Ahmad explains, their performance at Pohoda is meant to show their resilience and express their protest against the Taliban: "They can't silence us. They made us leave Afghanistan but we will continue playing all around the world."
Pohoda 2022's program also features the screening of the film Orchestra from the Land of Silence directed by Lucia Kašová and produced by Pohoda. The documentary about the first female Afghan orchestra Zohra will be closing the Friday program at .týždeň tent. Right after the screening, Frederika Halászová will be hosting a debate with the documentary's director and the Afghanistan National Institute director Ahmad Sarmast.