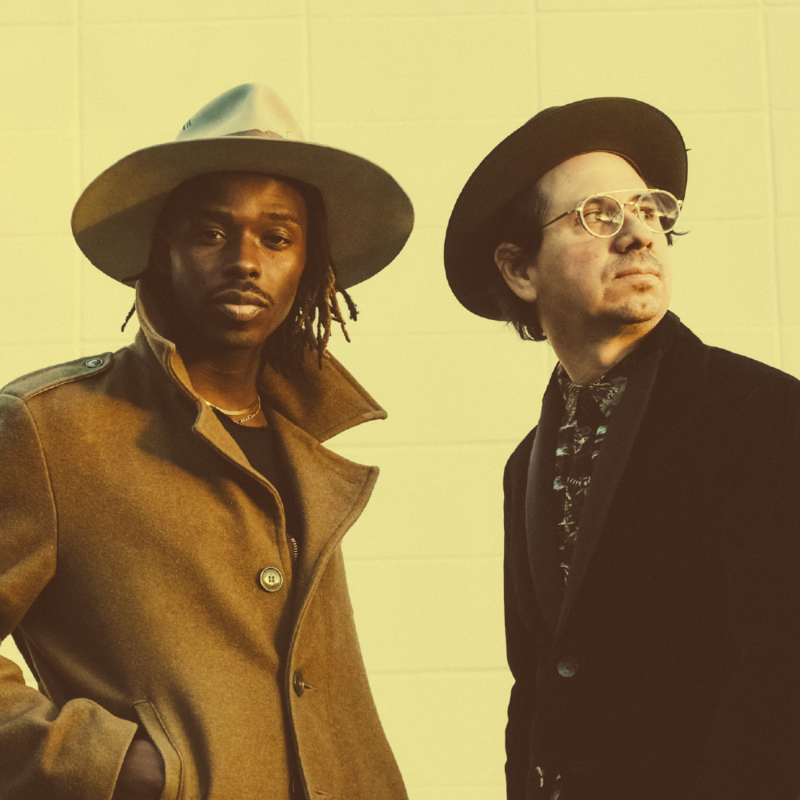 Black Pumas – cancelled US
Website Facebook Instagram YouTube Spotify Twitter
Teflon, microwave oven, popsicle or Black Pumas—the best things happen by chance.
In 2017, Californian busker and music nomad Eric Burton headed to Austin, Texas. The singer, who grew up singing in church and then got involved in musical theater, set up his busking spot at the corner of 6th Street and Congress. At the same time, producer Adrian Quesada (Grammy winner and guitarist of the band Grupo Fantasma) was looking to collaborate with someone new. What he failed to find in LA or London, he eventually found near his birthplace. A mutual friend mentioned Burton to Quesada, saying that he was the best singer he had ever heard. Quesada contacted Burton, but it took a while to the latter to respond. Finally, he called Quesada and sang to him over the phone. "I loved his energy, his vibe, and I knew it would be incredible on record,"
, says Quesada. Quesada has played in bands like Grupo Fantasma and Brownout and has accompanied artists from Prince to Daniel Johnston, while with Burton he found a perfect match in the direction they wanted to go in music. The US station KCRW described their sound as "Wu-Tang Clan meets James Brown." From the moment they entered the studio and Burton sang "Black Moon Rising" (a song Quesada produced on the day of a solar eclipse), they both knew this was it: not a one-time recording session, an album or a project, but the formation of a new band. You can hear the results of this connection on their 2019 debut. Magazine Rolling Stone praised "the tireless, charismatic energy of singer Eric Burton," and Pitchfork raved "The duo's flair for drama is so stirring, they can seem acutely cinematic." The Guardian wrote that this was "a debut so perfectly realised by the standards they've set themselves that you wonder what could possibly come next." Then followed the reactions of the audience. Their anthemic single "Colors" has been streamed more than 100 million times on Youtube and 56 million times on Spotify.
Burton's voice is definitely reminiscent of the atmosphere of the 1970s. Black Pumas may, at times, give an impression of a time machine to the listeners, evoking something they have already heard. In their case, however, it is not just retro-imitations, but rather original new pieces and a kind of reinterpretation of the top production work of musicians and sound masters of Motown records. They also reflect in their work the development of music over the decades from the golden era of soul to the present day.
Despite having only released one song, Black Pumas booked a residency at the Austin's C-Boy's Heart & Soul, where they immediately became a local phenomenon with lines for tickets around the block. This brought them the Best New Band award at the 2019 Austin Music Awards. Shortly afterwards, they were nominated for a Grammy in the same category (won by Billie Eilish) and then they completely sold out multiple tours across North America and Europe. After the release of the Deluxe Edition of Black Pumas in 2020, they received three additional Grammy Award Nominations for "Album of the Year," "Record of the Year," and "Best American Roots Performance." Black Pumas also performed at President Joe Biden's inaugural online event with artists such as Bruce Springsteen, Lady Gaga, Katy Perry, and Foo Fighters.
According to Burton, what's most important for them now is to continue to look for new sounds to continue to evolve. He says: "Every time we get together, it's better than the last time." A year is a long time, but this statement by the frontman of Black Pumas is even more promising before their concert at Pohoda 2022.
VIDEO:
Tickets for Pohoda 2022: www.pohodafestival.sk/sk/shop.