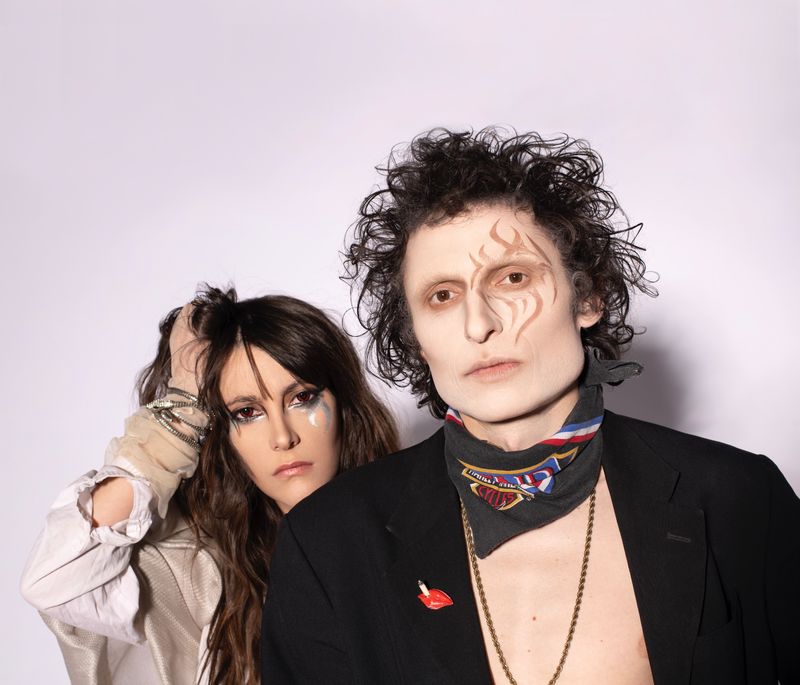 Website Facebook YouTube Spotify Instagram Twitter bandcamp
Paupière, the synthpop trio from Canadian Montreal will perform at Pohoda 2022. They enchanted our graphic artist and curator Tereza in Seoul, South Korea at the Zandari Festival. She said the following about the band: "Paupière was a pleasant surprise for me in a tiny club somewhere on one of Seoul's busy streets. The band was shy at first, their trembling and slight nervousness spread through the club. But it didn't take long and they absolutely enchanted us all with their sensuality... "

Mixing English synth-pop and French songs, Paupière is a "neo-romantic" band. Now led by Julia Daigle (visual artist) and Pierre-Luc Bégin (Polipe, We Are Wolves), they are a glamorous and flamboyant Montreal duo with an underground sensuality that creates a pop that is both naïve and profound. They are known for their lively and explosive stage performances. If one can hear echoes of Human League, Deux or Depeche Mode, their intertwined voices sing of the adolescent and hedonistic romanticism of the 80's as much as contemporary disenchantment. 

With their two EPs (Jettatura & Jeunes instants) and first album (À jamais privé de réponses), Paupière have made their mark on the Montreal and Quebec scene (Osheaga, Francos de Montréal, M pour Montréal, Coup de Coeur Francophone, Le Festif!, FME) and have generated strong interest from major media (Le Devoir, Ici Musique, Le Journal de Montréal). They also toured in Italy and France (supported by RFI, France Inter, TV5 Monde, Radio Nova) and played in Korea, Belgium and Switzerland. They have released their second album, Sade Sati, in May 2021.