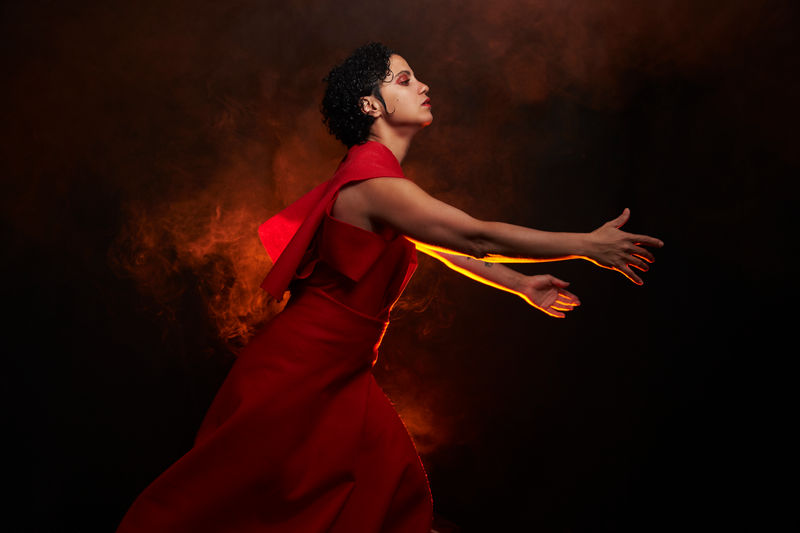 Website Facebook YouTube Spotify Instagram Twitter Deezer
Pohoda 2022 will also feature the "voice of the Arab Spring" – Tunisian singer Emel Mathlouthi. Emel rose to fame for the protest song called "Kelmti Horra" (My Word is Free), which became the anthem of the Tunisian revolution and, in fact, of the whole Arab Spring as well. She also performed the song during the 2015 Nobel Peace Prize award ceremony, earning a standing ovation from the moved audience. Her work borderlines experimental, electronic, North African, Arabic and film music and it is characterized by highly emotional expression with many dynamic changes and ornamental singing with a wide range. In addition to fantastic music, her three albums Kelmti Horra, Ensen and Everywhere We Looked Was Burning, also carry strong messages, fears and visions of this extremely talented multi-instrumentalist, singer and poet.
Emel pursued music since early childhood. She founded a metal band at college, however, influenced by Joan Baez's work, she started to criticize the socio-political situation. This did not go unnoticed and the government banned her songs from radio and TV. The video of her singing "Kelmti Horra" for protesters on Avenue Habib Bourguiba in Tunisia instantly went viral. In addition to her native country, her songs also encouraged people at concerts in Baghdad and Cairo which lead to Ahram Online proclaiming her the Fairuz of today's generation. Many performances in Europe and North America followed, and in 2017 she also headlined the prestigious Tunisian Carthage Festival. Emel has collaborated with people like Valgeir Sigurðsson, Amine Metani and Tricky on her albums and is inspired by the work of Joan Baez, Sheikh Imam, James Blake, Massive Attack, Jeff Buckkley and Björk. Her song "Ensen Dhaif" (Human, Helpless Human) was labeled "best new track" by Pitchfork. The latest album Everywhere We Looked Was Burning is dominated by the connection with nature, which is underlined by sounds resembling forests, wind, sea and flames. She changed Arabic for English this time and lets her fierce apocalyptic voice float over the thundering depths of experimental electronic music. The album is musically unrestrained in time and place, full of melancholic synthesizers of the '70s and' 80s, spacious drums and Android sounds.