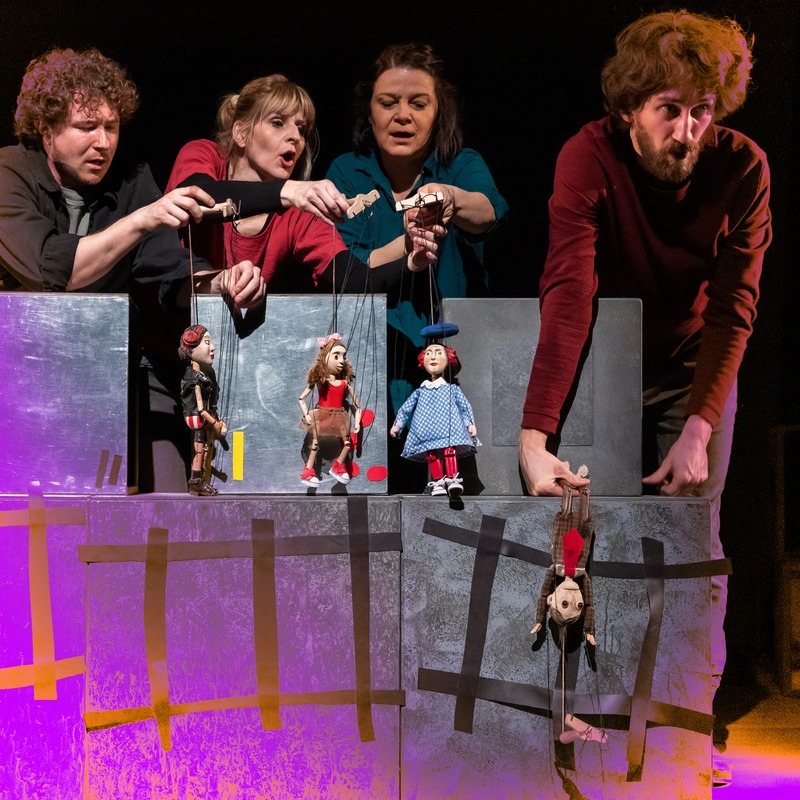 Bratislavské bábkové divadlo SK
Bratislavské bábkové divadlo (Bratislava Puppet Theatre): Vincent a Víchrica (Vincent and Windstorm)

A gentle story about love and how difficult it is to find 'the one'.
When little Ema notices that her parents are not as nice to each other as they used to be, she decides to find out why. Together with a crazy neighbour and her grandmother, they set out to find out that Vincent, a shy gentleman who is wasting away for lack of hugs and kisses, is to blame for the family's discomfort. A hug is the way to the heart, and Vincent's is empty. In order for Dad and Mom to find their way back to each other, Ema must help Vincent find someone who loves him. And so Ema, her neighbour, and Grandma spring into action. The search for a girlfriend for Vincent turns into a cheerful and somewhat wild game with all the ingredients for a happy ending. Nothing seems to stand in the way of love anymore. Except... Vincent himself – a quirky guy who is going to be a real handful.
Suitable for children ages 5+
Duration: 60 minutes.
Based on the book Ema a pusinkový lupič (Emma and the Kiss Thief) by Rudolf Král. 

Text: Rudolf Král, Katarína Aulitisová 
Production design: Ivana Macková 
Music: Juraj Haško
Dramaturgy, direction: Katarína Aulitisová 
Starring: Miroslava Dudková, Miriam Kalinková, Peter Pavlík, Lukáš Tandara 
Production: Zita Kollárová, Martina Fintorová, Martina Piatková and Jaroslav Štuller under the direction of Beata Westrych-Zázrivcová 
Sound: Dominik Novák, Viktor Öri
Lightning: Jakub Ťapucha, Juraj Čech 
Stage technicians: Marek Duchoň, Ľuboš Hodás, Dominik Prok, Boris Javorský 
Supervision: Gregor Kaclík

POHODA 2023 TICKETS