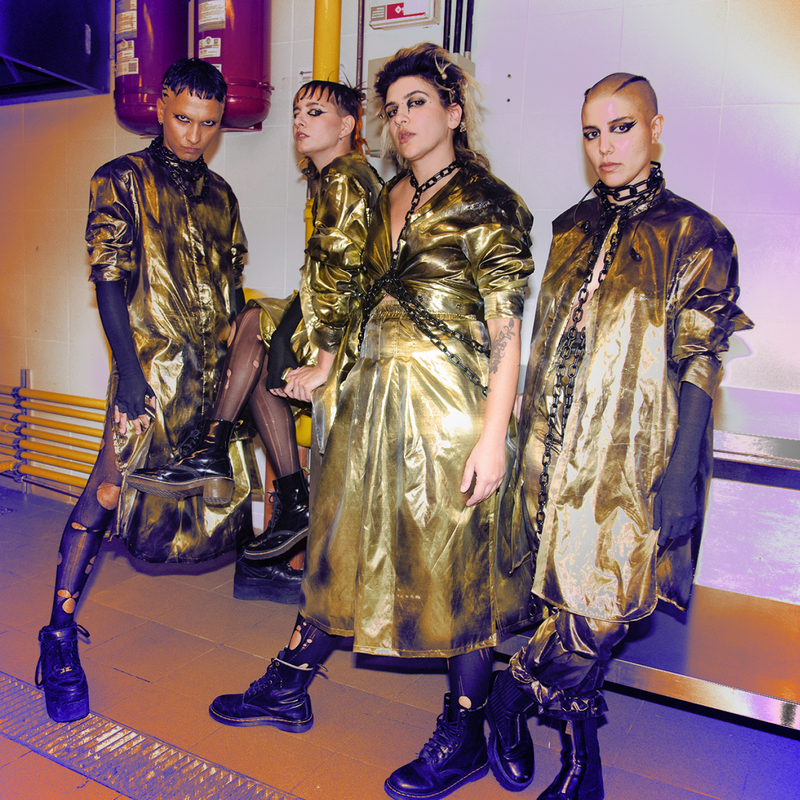 SPOTIFY APPLE MUSIC INSTAGRAM FACEBOOK
Blanco Teta is an experimental rock project, with the aggressiveness and simplicity of punk but with a great twist: a relentless distorted noise soundscapes, edgy performances, transfeminist concept with an avant-garde approach. Based in Buenos Aires, Argentina, born in 2017 with the need to find a unique sound with an atypical formation, given by the presence of the processed cello.
Blanco teta is formed by Carola Zelaschi on drums, Carlos E. Quebrada on electric bass, Violeta García on cello and Josefina Barreix on vocals. They had released their first Album BLANCO TETA on tape in 2017 under the record label TVLREC and during 2019 they recorded their second album which was released in March 2020 through the label GOZARECORDS. More than a band, Blanco Teta is a performative and visual proposal that establishes a dialogue with the audience. Going to a Blanco Teta show is an immersive experience with high levels of relentless energy and madness.
Blanco Teta represents a great movement that articulates with other transfeminist experimental collectives from the upcoming queer latinx scene. They have played in numerous popular venues in the Buenos Aires experimental scene. They had their first tour abroad in 2019 in Uruguay. In 2022 They made their first European tour playing in various countries and festivals, including the Fusion Festival (DE), Valkof Festival (NL), Welcome to the village (NL), Nordanpaunk (ISL) and Atwerp Queer Festival (BE) and other various shows in venues around Switzeland, Netherelands, Belgium, Germany, Denmark, Sweden and Iceland . They are now working on "ROMPEPAGA" their third album.